This fantastically easy, tonguegasmically delicious breakfast casserole is also featured over on Blissfully Delish today as a part of our month of eggs in conjunction with the American Egg Board, and over on Blissfully Delish, I'll give you the lower fat recipe
But y'all know I don't do low fat over here.
One of the reasons that I love this dish so much is that it's easy, it can be made the night before and with the blending of the spicy sausage and the creamy eggs and cheese mixture. Seriously y'all your taste buds will dance with delight and your friends and family will ask what they can do for you if you'll only make this dish for them.
Sausage and Egg Casserole
4 C frozen shredded hashbrowns
2 C shredded cheddar
1 lb (cooked) breakfast sausage, I use the hot sausage because we like a little zoomph in our food
1/2 C green onion, chopped
8 eggs, beaten
2 (12 oz) cans evaporated milk
1/2 to 1 tsp pepper
1/2 tsp salt
Arrange hashbrowns in an even layer in the bottom of a greased 9X13 pan
Sprinkle with cheese, sausage and green onion: set aside
Combine eggs, milk, salt and pepper: blend well
Pour over hashbrown mixture, cover and refrigerate for several hours, or overnight
Bake, uncovered at 350 degrees until the center is set: 40 to 50 minutes if chilled. 50 to 60 minutes if chilled overnight.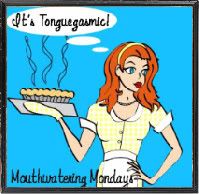 Are you playing along with MouthWatering Mondays?  If you are, THANK YOU!  Grab a button from the sidebar, link back here and make sure you sign the Mr. Linky with the perma-link to your MWM post, not just your generic blog url.  If you don't do these things then I'll have to remove you from Mr. Linky for not playing by the rules
Thank you so much for joining me in sharing my love of food, family and recipes!